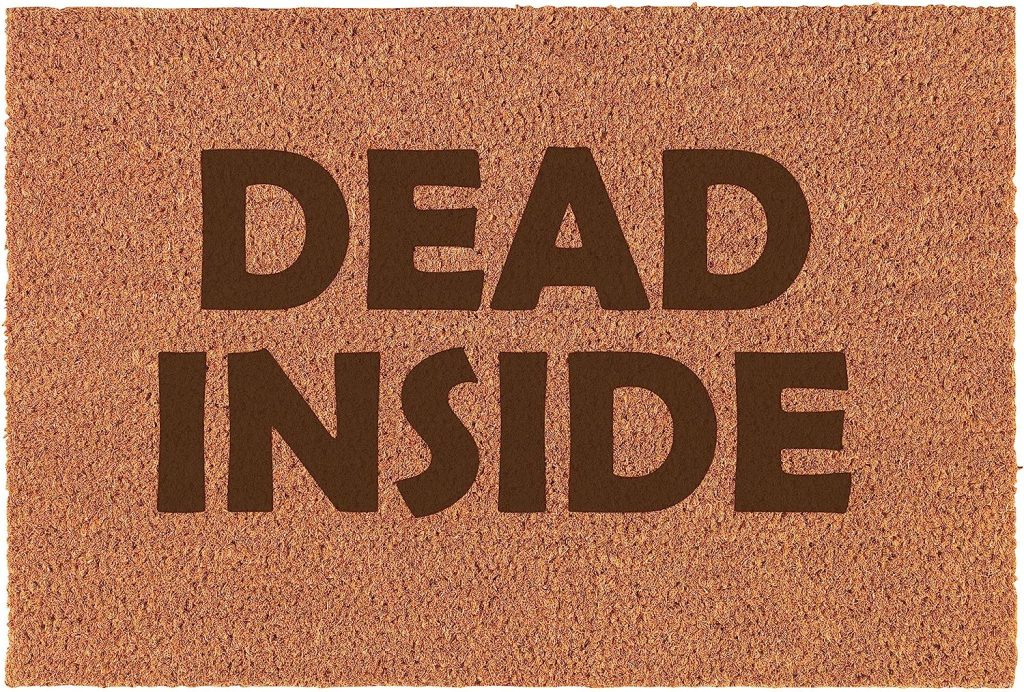 Ten Zombie Door Treatments and Accessories
Abandon Hope, All Ye Who Shamble In Here
Whether it's for Halloween, a zombie-themed birthday party, or just to show the world just how zombically inclined you are all year round, here are ten great door treatments or accessories that make that message loud and clear – as clear as a deep groan and a wet chewing sound from the other side o the entrance…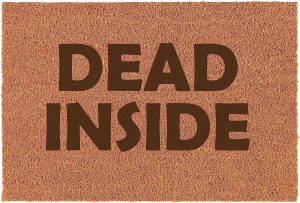 Knock knock (or scratch-scrach, groan-groan, scrabble-scrabble) … who's there? If it's not a zombie, maybe it's somebody who loves 'em as much as you. 18"x30", 100% natural coir fiber, with a rubber backing. Chances are you'll have the only undead doormat in the neighborhood.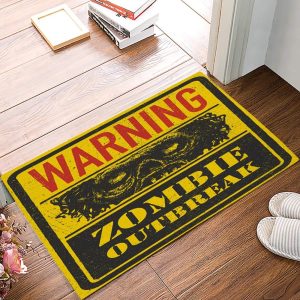 Wonderfully intimidating; it almost looks official. 16"x 24", non-slip polyester. Sweep, vacuum or shake out to clean. Even machine washable.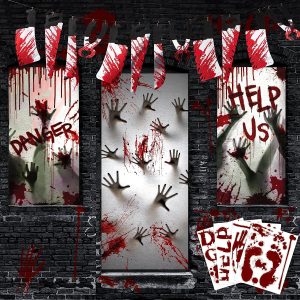 Four pieces: footprint sticks, window covers, and a truly spooky door cover. Love the look!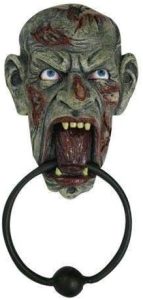 Big, beautiful and absolutely appalling, complete with a metal ring and an ominous gaze. Made from cold cast polyresin, handpainted and polilshed, 7" tall with a massive, intimidating ring.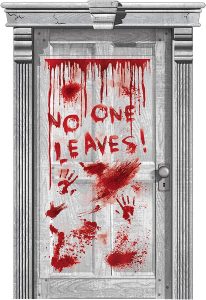 This could work for a front door or more permanently a bedroom door, especially for the disaffected and would-be both 14-year-old we all were at some time or another (or still are). 65"x33½", washable plastic, with blood handprints, smears, and text all in a lovely sanguine crimson.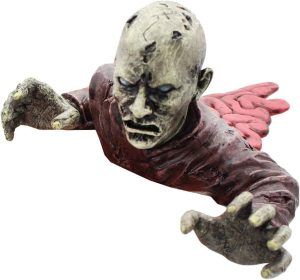 Hey, what's that at your fee-- AHH! Yes: a 4.8"x3.2"x6" doorstop that will hold the door open and allow the walking dead to stroll right in. Idiot. And we particularly like the intestines gushing out the back.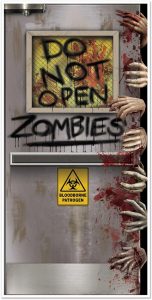 With grabby zom-hands and everything! 30"x60", all-weather plastic for indoor and outdoor use. One of the scarier designs we've seen … and we've seen plenty!

Not some little paper toy! A real, live (or undead) sign! 6"x18", a crisp, clear image on a matte finish with pre-cut mounting hles for hanging, printed iun durable fade-proof inks that are sun (and bite!)-resistant!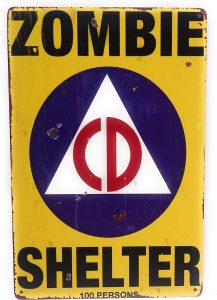 It's not a decoration, it's a public service! Come the zompoc, the 8"x12" tin sign will tell the world you're one of the last safe places… then you can choose who to let in! Good for your door, your office, or over your wet bar.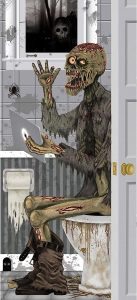 Actually, this should have been part of our Zombie-Themed Bathroom collection, but there's always something new to add… and this is it! Catch your shambler at his most embarrassing moment and tell any house- or party-guests where the facilities are hiding.