Sha, our Undead Queen of All Things Shopping and the Manager of the Mall of the Living Dead, has created the ultimate Zombie-Themed Bathroom – everything from bloody hand towels and a chandelier of skulls to a zombie hiding in the toilet! And it can all be yours for remarkably little (except for the chandelier. That's a little pricey!)
Here are the wide (and wild) range of items she showed us on the tour of the Ultimate Zombie-Themed Bathroom

A lovely three-tiered skull chandelier made with 20 life-size skulls. Not exactly zombie, but so appropriate. Some of the skulls have the jaws open in horror, some are closed and – a nice touch — some have no jaws at all. About 35 inches from the top of chain ring to the bottom layer held together with steel bands, and each skull has a 3-watt flicker bulb that has been set deep inside to make it look like an actual candle A little pricey — $738 and change. But worth every cent!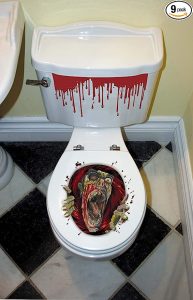 Above: a dripping blood "toilet topper," and below a toilet cover that looks just like a zombie is looking up from inside the toilet! Gaping mouth and rotting teeth and everything! From Amscam .. and only $18!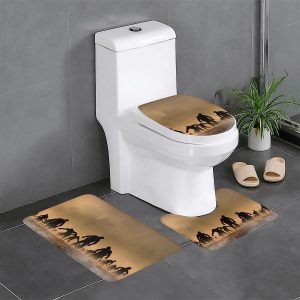 Each mat has its own cute little silhouettes of the shambling hordes. There's a 23×15-inch rectangular floor mat … and a u-shaped mat for the toilet … and a nice cover for the lid! Soft and thick, non-slip, made of special flannel that keeps your feet warm, comfortable and safe despite the ravening flesh-eating hordes just outside the door! $33 from El Bull! 

Zombie Toilet Paper Holder
… hanging right on the wall! A nice big ugly undead head looming over the paper roll. Literally scares the shit out of you. $36 from DWK! https://amzn.to/3oElEyV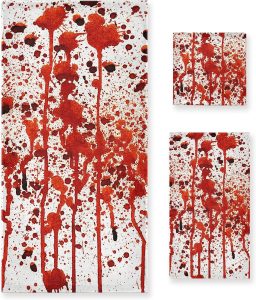 A 30"x60" bath towel, a 16"x27" hand towel, and a 13" square washcloth, each with its own unique streaks and spatters of human remains! Machine washable. Tumble dry on low. $39!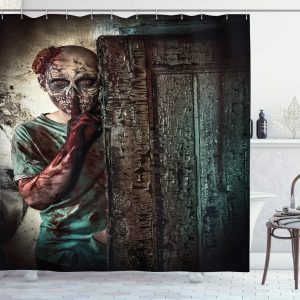 He's right there, looking at you with evil eyes! Fabric, with hooks, 72" square, umber and teal and tan. From Ambesonne, only $17.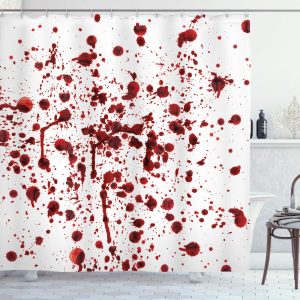 This one is more … impressionistic, right? Splashes of blood and grunge, as if you'd already been attacked! From Ambesonne, Fabric, 72" square. $32!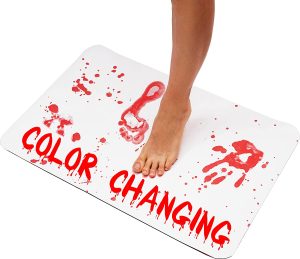 A bath mat that looks perfectly white … until you step on it with your wet feet and your footprints and drips turned blood-red! And it stays that way until it dries … when it fades right back to bright white! Only $25 for years of fun. Only $25!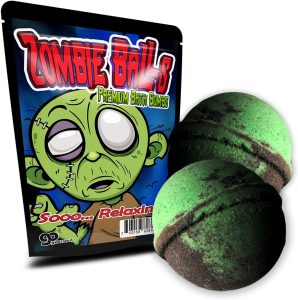 A package of two that fizz green and black and turn your water dark and ominous. And they have a unique fragrance. Only $15!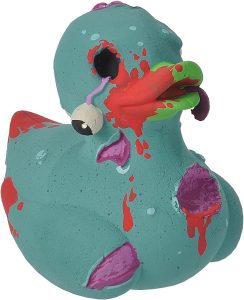 So cute. A 4" rubber ducky, blue – well, originally blue, back when it was alive. But now it's all swollen and scarred and missing part of its beak from where the zombie bit it. From Wild Republic, a cool little company that has specialized in designing realistic stuffed animals and educational toys since the return of the living dead! Only $9.00! 
If you get everything listed here, you can have every item in the awesome Water Closer of Horror for only $1,000,  give or take ten bucks (and delivery). Or even less! Skip the skull lamp, and everything else combined is less than $275!
It's the zombie-themed bathroom of your dreams – or nightmares! — available now!