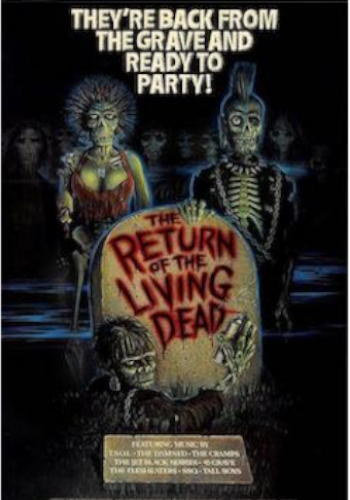 Return of the Living Dead (1985)
Movie / Strollers / Comedy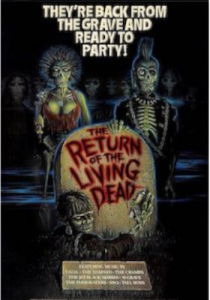 Here's a Zombie World historical "fact," at least as Return of the Living Dead tells it:
On July 3, 1984, at the Uneeda Medical Supply warehouse in Louisville, Kentucky, foreman Frank Johnson tried to impress his new employee Freddy by showing him some ancient storage drums from the U.S. military filled with toxic gas called Trioxin. Unfortunately, he accidentally leaked some of the gas, and it founds it way to some nearby corpses (?), causing the spawning of a whole new generation of stupid, semi-fast zombies – the real zombies, not the 'fake' ones from George Romero's movie – with a small but useful vocabulary and a taste for brains.
Yes, it's true: July 3, 2023 is the 39th anniversary of the 'historical event' that led to a whole string of 'funny zombie' action thrillers, beginning with the surprisingly entertaining Return of the Living Dead (1985) and stumbling, inevitably, into a string of increasingly unsuccessful and inconsistent sequels.
Return was directed by Dan O'Bannon, who by that point had directed only one other film, but had been involved, one way or another, in everything from Dark Star to Alien to Star Wars to Blue Thunder. He went on to great work as a writer and/or director on projects ranging from Lifeforce to Invaders From Mars to Total Recall to Screamers, Bleeders, and Alien vs. Predator, until his death in 2009. But this was his big break. And the movie is crowded with classic character actors of the day as well, including James Karan and Clu Gulager – two middle-aged men whose faces you'll recognize the instant you see them (and Gulager's son went on to be a horror director of some merit himself.)
The plot here is thin as the skin on a walker: toxic gas is accidentally released, converting some nearby corpses into zombies who, in turn, can convert the living with a bite or scratch. Hilarity ensues, at least for a few hours, until Louisville is overrun. Then, on the Fourth of July 1984, the military 'solves' the problem by destroying the city with a nuclear bomb… which, in fact, just makes matters worse, as the end-credit "ending" implies. Damn that pesky radioactive toxic rain!
How did all this come to be? Well, after a lengthy and too-boring-to-bother-discussing legal battle, the co-creators of the original Night of the Living Dead – George A. Romero and John Russo – finally came to an agreement that Romero could go make his own zombie movies and use the term "Dead" in the titles (and, as it happened, times of day) without any legal hassles from Russo. Russo, on the other hand, could make zombie movies with the term "Living Dead" and not get hassled by Romero. They had entirely different 'takes' on the creatures, as you can see from the various "Dead" vs "Living Dead" movies that ensued, and after a small but persistent rash of "Living Dead" films, the Russo line faded away in 2005. The first sequel, Return of the Living Dead Part II, showed up in 1988, and changed the rules about killing this version of zombies (electrocution works? Cool!). Return of the Living Dead III (1993) was produced and directed by Brian Yuzna, who'd done great work on the Re-Animator series. It goes more serious and goth-metal-punky, but it bombed big-time at the box office.
It wasn't until 2005 that Return of the Living Dead: Necropolis showed up, where the zombie-rules changed yet again (and they couldn't even get the spelling of "Trioxin" right). A direct sequel to this masterpiece, Return of the Living Dead: Rave to the Grave, was filmed in Romania at the same time and appeared later in the same year on the SyFy Channel – it couldn't even get a decent theatrical release.
There are a variety of other movies with "Living Dead" in the title during and after this set, as Russo gradually lost control (or interest?) in the brand – Flight, Day, Age, Virgin, Hell, City – but none are connected to this timeline and none are, frankly, worth the time. John Russo himself is still with us; he'll celebrate his 84th birthday in September.
There is, however, a pretty damn good documentary about the making of the first film, More Brains: Return to the Living Dead, with interviews from tons of people and some pretty amusing anecdotes.
Today, Return (the first one, only the first one!) is still pretty damned amusing and has a legit place in zom-culture history. For one thing, this is one of the first times that we get a "scientific" explanation for the walking dead. The original NotLD made a two-sentence pass at maybe saying it was radiation or a satellite or somethin', then retreated in "Dead" sequels to the religious/supernatural raison d'etre:
"When there's no more room in Hell, the dead will walk the earth."
But in Return and its sequels, it was clearly a toxic gas that caused it. Good ol' Trioxin. Since then, toxic waste or industrial accidents in general has become a mainstay in 'scientific zombie' movies, whether it's gas or waste products or bad food, or even a downed satellite. The viral alternative, a la 28 Days Later and The Walking Dead, would come even later. But here's where "it's bad science, and it's the government's fault" began.
Additionally, the now-often quoted (often to a ridiculous degree) desire of speaking zombies yearning for, "Brains! Brains!" started with Return. Apparently, the brain-parts make the unendurable pain of reanimation slightly less… unendurable? Whatever: the hunger endures, and so does the quote.
For these reasons alone, 1985's Return of the Living Dead deserves a spot on the "essentials" shelf of any zombie aficionado. Not the best zombie movie you'll ever see, and certainly not the best thing O'Bannon ever came up with, but.. a keeper.