The new Amityville movie is a zombie movie. And it's bad.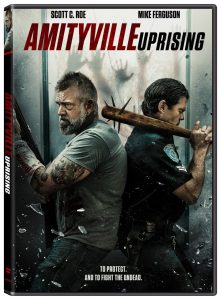 We generally hate to trash the bad or mediocre zombie stuff that's out there. Lord knows there's a ton. But once in a while, something is so egregiously awful, yet not awful enough to be 'good,' and so misleading that you have to say something.Like Amityville: Uprising.
Any horror fan still breathing knows that The Amityville Horror, book or movie or remake, has nothing to do with zombies. It's your classic (possible semi-true?) 'haunted house' story and god bless our sister horror sub-genre, but zombies? No. Not a one. But small-minded movie producers (and self-publishers) have taken to slapping the word "Amityville" in front of any damn semi-horror POS as a way to increase their search results, and this is a prime example.
This is not okay…
[button link="https://zombiegiftguide.com/2022/01/07/hello-world/"] Click here to read more…[/button]
This might even be forgivable — no, wait, it would be, but anyway — if the movie it was fronting was even slightly watchable. This is not. worthwhile for anyone who's looking for a haunted house story OR a zombie shot.
It's for sale or rent on Amazon here, Take a look if you really feel the need, but we're not listing it in the store and, it's not in any version of the guide. Caveat friggin' emptor, people.