Year Zero, the zom-comic series, has a Daniel Kraus connection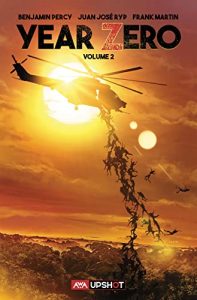 Year Zero, a classic and surprisingly fresh take on the zombie apocalypse, has been a comics series for a few years now. In fact there are two trade paperbacks already available here. And right now, Daniel Kraus has been crafting a prequel to the Ben Percy/Ramon Rosanos series that brings even more depth to the concept.
Ben Percy (Wolverine) and Ramon Rosanas (Star Wars: Age of Resistance) teamed up to offer an interesting and often unexpected cast of characters; a Japanese hitman, a Mexican street urchin, an Afghan military aide, a Polar research scientist, a midwestern American survivalist, all of whom have to draw upon their "unique skills and deepest instincts to navigate a world of shambling dead." And the artwork is wonderfully contemporary and clean, even when telling the grim and violent story of the zompoc. And Goran Sudzuka's art in the prequel is equally bright and dynamic. Strong stuff, and very different from the far more normal splattergore or EC knockoffs of so many zombie comics.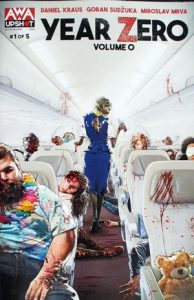 The prequel, referred to as "Volume 0," focuses on a streetwise Russian cop patrolling the back alleys of a post-apoc black market, as well as a North Korean soldier in the DMZ, an ER nurse in the rural South fights to protect her hospital from threats without and within, and a transgender flight attendant crisscrossing the globe. It won't be out until May of '23, but individual issues are already available
here
.
Lots going on … and all worth a look!