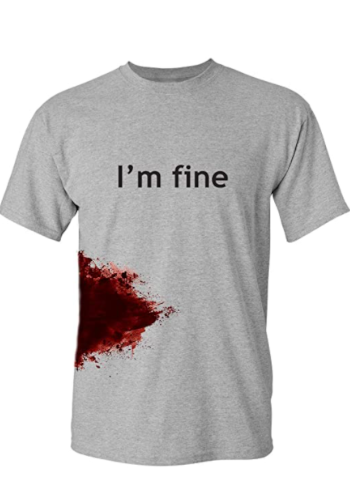 "I'm fine" T-shirt

How often have you heard it in one zombie movie or another? How often have you believed it? "I'm Fine," they say … and mere moments later they're going for your neck and joining the ravening, mindless hordes.
Kids today, am I right?
Regardless, we've seen a number of "I'm Fine" t-shirts out there, but this one is significantly better-made and more subtle (if you can call this subtle) than most. At the very least, it's a way to be living in denial and still be cool – certainly an admirable goal in itself. Mostly pre-shrunk cotton (with some exceptions), and holds up to multiple washings.
ZGG visionary Sha Sims bought this particular shirt for her teenage son, and tells a hilarious story on the Zombie World podcast about how he wore it under his jacket to his job at a local supermarket, and when he hit the locker room everyone panicked: they thought he actually been wounded somehow. He had to explain multiple times, up the chain of command, that no, really, he was perfectly fine – just like the shirt said! Still, all the commotion speaks to the realism of the shirt, and its potential to freak people out exactly as you want to..
And if you like this tee, you might like one of these:
Future Mrs. Daryl Dixon T-shirt
"Zombies Eat Brains, So You're Safe" Hoodie
Living Dead Girl T-shirt