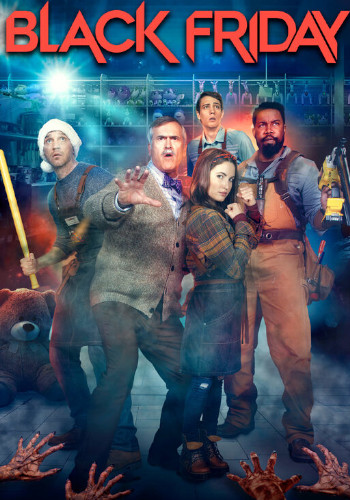 Black Friday:
Zombies Attack Walmart (or something worse!)
Movie / Dark Action Comedy / SlowZombies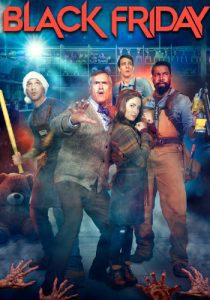 Horror Comedy, the mother of all oxymorons, is very tough to do well… but that doesn't keep filmmakers from trying. Over and over. And hey, it doesn't have to be Shaun of the Dead or Tucker and Dale vs. Evil to be worth a look.
So where would we put Black Friday, a 2021 entry in the Comedy Horror Olympics that starts with the all-too-real horror of the ruthlessness, cruelty, and utter madness of shoppers on the day after Thanksgiving, then postulates what happens when those shoppers go full-tilt zombie, thanks to some goo that looks like it came right out of The Stuff, a zombie-adjacent movie that we'll talk about eventually.
Yeah, it's funny. Not laugh-out-loud, roll-in-the-produce-aisle hilarious, but on the other hand it has Bruce Campbell – yeah, post-Ash, post-Burn Notice Bruce, at his 2021 doughy best, complete with a bushy mustache and a dickish attitude, teamed up/at odds with Devon Sawa, fresh out of the new Chucky series by way of Final Destination and Idle Hands, the last of which is another zombie-adjacent film we'll have to cover.
There are some cool swipes at consumerism, corporate callousness, and the death of the American Dream throughout the surprisingly graphic all-night adventure, and though the ending gets a little too Ghostbusters (the first one, the good one) to work entirely well, but it's a solid piece of comedy horror. It's no Horrorstor, Grady Hendrix's amazing book about a haunted/cursed IKEA that has no zombies, but you'll like it anyway, and… hey! Bruce Campbell! Being a dick!