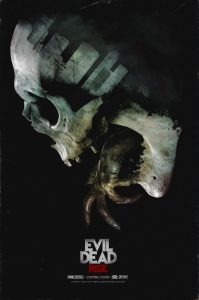 It won't show up until April 21st, 2023, and Bruce Campbell won't be in it (directly), but it's a brand new, fully authorized new chapter in Evil Dead, one of the classics of zomfic … and Campbell and original director Sam Raimi are both on board.
It's called Evil Dead: Rise, and the press release calls it, "a twisted tale of two estranged sisters whose reunion is cut short by the rise of flesh-possessing demons, thrusting them into a primal battle for survival as they face the most nightmarish version of family imaginable."
The newest installment stars Alyssa Sutherland from Vikings, alongside Lily Sullivan (Picnic at Hanging Rock.) It's being directed by Lee Cronin (Hole in the Ground), and Raimi's all in favor. "I'm excited to be working with him," he said — Raimi, like Campbell, is a producer for Rise. He said Cronin's "gifts as a storyteller make him the ideal filmmaker to continue the enduring legacy of the franchise."
Even though the new story takes place in the big city (Los Angeles, in fact) rather than the middle of a haunted forest, Bruce Campbell, too, is hugely positive about the project. "At its core, Evil Dead is about ordinary people overcoming extraordinarily terrifying situations. I can't wait for Alyssa and Lilly to fill the blood-soaked shoes of those who have come before them and carry on that tradition."
We'll be covering it as more info leaks out, and be first in line come April 21st.